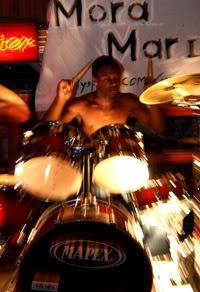 Eric Edward Moon
(born
1923
) is a
librarian
and
editor
who had a shaping influence on American librarianship in the 1960s, 1970s, and 1980s, as editor of
Library Journal
, as President of the
American Library Association
, and as chief editor at
Scarecrow Press
.
Eric Moon was born on March 6, 1923 in
Yeovil
,
England
, and spent most of his youth in
Southampton
. He worked at Southampton Public Library from 1938 until he began his military service in 1941. Following his discharge in 1946 he pursued his professional education as a librarian, at the then
Loughborough College
. He began his professional career running small libraries in
Hertfordshire
, at
Finchley
, at
Brentford and Chiswick
, and then at
Kensington
, experimenting with novel ideas in library service through this period. Frustrated with the conservatism of British librarianship, in 1958 he took a job as head of public libraries in
Newfoundland, Canada
, where he worked for one year.
In 1959 Moon was hired as editor of
Library Journal
, based in
New York City
. The leadership of the
R.R. Bowker
company,
Library Journal's
publisher, saw in Moon a personality they hoped would revive the struggling magazine and take it in new directions. In his nine years as editor, Moon changed
Library Journal
substantially, most noticeably by engaging the magazine in controversial issues and taking sides in the heated debates that characterized American librarianship during the period. Under Moon's editorship,
Library Journal
became known for its
liberal
,
activist
perspectives on the professional issues of the day. This change in direction was first defined by Moon's choice in 1960 to address
racial segregation
in
Southern
libraries, where
African American
librarians were not allowed to work in "
white
" libraries or participate in the library associations of Southern states. The debate over racially segregated libraries divided the profession at that time, and Moon's activist position placed his
Library Journal
in the camp of those in the profession who advocated significant change. This transformation made
Library Journal
popular reading for American librarians; by the mid-1960s the magazine was financially thriving. In 1965 Eric Moon was appointed to the Bowker Board of Directors.
In that year he also became a citizen of the United States.
Moon quit his post as editor of
Library Journal
in 1968, shortly after Bowker was acquired by the
Xerox Corporation
. In 1969 he was hired as the chief editor of Scarecrow Press, a small publisher with ties to the library community that had recently been purchased by the Grolier Educational Corporation (now a subsidiary of
Scholastic, Inc.
), taking over for founder
Ralph Shaw
. At Scarecrow, Moon rapidly increased the number of titles published per year, while introducing higher standards for editorial accuracy. (Scarecrow had been notorious for typographical errors in its books.) He also broadened the scope of the press beyond its traditional focus on
library science
topics. Moon retired from Scarecrow Press in 1978.
Moon ran for the office of Vice-President/President-Elect of the American Library Association as a petition candidate for the 1976-1977 year, and was elected. The major concern of his presidential year was to influence the development of a national
information policy
. Events in the profession during his term made it difficult to arouse strong interest in this goal within the association, whose leaders mostly lacked prior experience in the policy arena to begin with. Following his presidential year, Moon continued to influence ALA politics as a member of its governing Council into the mid-1990s.
Eric Moon is presently retired and living in
Sarasota, Florida
with his wife Ilse.