Milton Arthur Paul Caniff
(
February 28
,
1907
-
May 3
,
1988
) was an
American
cartoonist
famous for the
Terry and the Pirates
and
Steve Canyon
comic strips.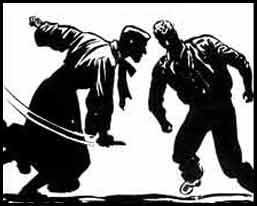 Early life
In 1932, Caniff moved to
New York City
to accept an artist position in the Features Service of the Associated Press. He did general assignment art for several months, then inherited a panel cartoon called
Mister Gilfeather
in September 1932 when
Al Capp
left the feature. Caniff continued
Gilfeather
until the spring of 1933, when it was retired in favor of a generic comedy in a panel cartoon called
The Gay Thirties
, which he produced until he left AP in the fall of 1934. In July 1933, Caniff began an adventure fantasy strip,
Dickie Dare
, influenced by series such as
Flash Gordon
and
Brick Bradford
. At the time, Caniff was one of only two or three syndicated cartoonists who owned their creations, and he attracted considerable publicity as a result of this circumstance.
Recognition and awards
Along with
Hal Foster
and
Alex Raymond
, Caniff's style would have a tremendous influence on the artists who drew American comic books in the first half of the 20th century. Evidence of his influence can be clearly seen in the work of comic book artists such as
Jack Kirby
,
Frank Robbins
,
Lee Elias
,
Bob Kane
,
Mike Sekowsky
,
Dick Dillin
,
John Romita,Sr.
and
Johnny Craig
to name just a mere handful.